Yamaha CL5 is a digital mixing console that offers efficient and practical operation with endless possibilities.
Ideal for large live sound systems, it provides as many as 72 mono and 8 stereo input channels in a 3-section fader layout: this configuration It is the most popular for a variety of live sound systems.
The console also features a built-in iPad holder for additional control functionality.
Pure power
Yamaha's CL mixing consoles are known for providing accessible mixing combined with unique sonic purity.
Available in 48, 64 and 72 channel models, these consoles guarantee a natural sound, while offering a full range of "coloration" options. ".
An intuitive layout and familiar controls offer effortless creative freedom, while every single component is expertly designed to ensure the highest quality audio performance.
Yamaha's Virtual Circuitry Modeling (VCM) technology allows digital audio to accurately model rich, expressive analog sound.
In addition to the Portico 5033/5043 equalizer and compressor/limiters developed in collaboration with Rupert Neve Designs, CL consoles include a wide range of other VCM equalizers, compressors and effects.
Yamaha CL5 manages to create unique, professional audio, regardless of location or project.
CL's "virtual racks" allow you to combine signal processors in one easily accessible location.
Even more controls for the Yamaha CL5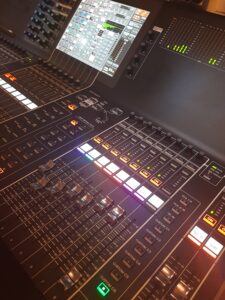 CL consoles are packed with features ideal for live audio and demanding broadcast applications.
Store up to 300 complete configurations as "scenes", as well as Recall Safe, Focus and Preview functions which you can access immediately when needed.
Other console functions include Sends on Fader, Tap Tempo and Set by Sel which can be assigned to 16 keys user-defined for immediate convenient access.
Digital gain control contributes to smooth, efficient operation and integration: CL's Gain Compensation function combines FOH and monitor control via a single network, for more natural sound.
Harmony in form
The angled profile of the CL Series is not only elegant, but allows for the best possible view of all controls and display from the operator's position.
Visual continuity of the faders of the Centralogic section on the display is perfect.
The armrest panel, on the other hand, is real oak with a splendid ebony finish and contributes to the visual and tactile refinement of the overall project.
CL5 offers a guarantee of reliability and is currently available and always present in Dhs Event Solution events.