Today we talk about technology for events linked to the lighting sector, in particular we focus on a truly interesting and unique tool of its kind: the Hog 4 multipurpose console by ETC.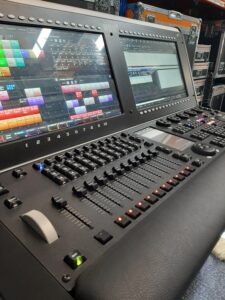 Hog consoles have pioneered the world of automated lighting control on a grand scale in the event world and beyond: they have an excellent reputation that ensures lasting loyalty from programmers around the world.
The Hog 4 console in all its glory
Hog 4 was built to be used in any type of event, which generates a noteworthy reputation and guarantees incredible ease of use: its tools are designed for scheduling efficiency, which means that even the features advanced features such as pixel mapping and texture layout are optimized for programming speed.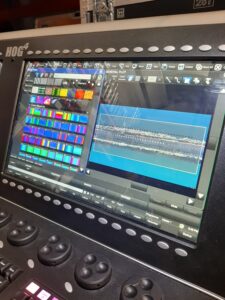 The Hog 4 represents the flagship of the new generation of consoles. Replacing the Wholehog III glue, it embraces the latest technology, while retaining the familiar Hog control surface.
Two internal 17-inch wide screen touch displays, motorized faders, a dedicated Grand Master, dedicated Intensity and Rate wheels, a third central touch screen and backlit LCD user keys are the strengths of the console.
Three monitor outputs, eight built-in DMX outputs, MIDI in and out ports, 8 USB ports, 2 Fast Ethernet ports on a robust Neutrik Ethercon connector allowing for total flexibility.

All this hints at the ease of adaptation of the Hog4, as you can use it from the smallest event requiring a single console to the largest show in a stadium, from running an entire sold out concert or an entire light show of any scale. : so this console is perfect? Let's find out!
Is Hog4 really unbeatable? Expert opinion
Does Hog4 really make a difference and make an event so special? Luca Fabiani, Lighting Designer for Dhs Event Solution explains it to us:
"What is interesting about the Hog4 compared to the other consoles in circulation today and which certainly puts it in an advantageous position, is the pixel mapping, with a really interesting media picker"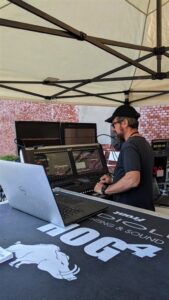 "By selecting projectors or moving lights, you have a much faster memory synchronization structure than with other consoles: basically, by choosing the machines, I can insert the video that is broadcast at that moment during the event and I can easily and in a short time to create the pixel of those projectors with the same colors and the same intensities, bringing the video in the show back to the console.
"With only three buttons I create a sequence of memories in a very short time compared to other consoles: on this pixel mapping system, Hog is unbeatable today compared to its other market competitors."
Hog4 is currently available and widely used in Dhs Event Solution events.